HOW TO SHOP THE FABRIC MARKET
The Entrepreneur's Guide to Sewn Product Manufacturing
From Our Bookstore
---
---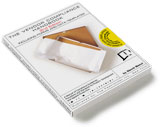 ---
Glossary of frequently-used textile, manufacturing, development, production, and commercial shipping terms in the apparel industry.
A B C D E F G H I J K L M N O P Q R S T U V W X Y Z
Knit-down

A knitted sample, used to demonstrate or present the specific color combos, yarns, stitches and/or pattern in a design. The knit-down is often used for approval purposes.

Knits

A family of textiles produced by a series of interlocking or interlacing loops. Knits are usually distinguishable from woven fabrics by greater stretch and recovery in the length and/or width of the fabric.

Weft Knitting - Derived from hand-knitting and involves rows of interlocking loops formed across and back as the fabric is knitted. Machine weft knitting can be done on either flatbed machines that produce panels or on circular machines that produce lengths (large tubes) of knitted piece goods.

Warp Knitting - Utilizes a "warp" of yarns but instead of interlacing these with weft yarns, the warp yarns make interlocking loops in a diagonal pattern back and forth across the fabric. Warp knits are usually employed for high volume knit textile production. Raschel and lace knitting are also warp knits.