Supplies-packaging/production/shipping Suppliers.
Prime source since 1933 for hard-fiber sample cases, soft-side rolling cases, garment bags, collapsible rolling racks, plastic showroom hangers, showroom display fixtures, store display mannequins and jersey display forms.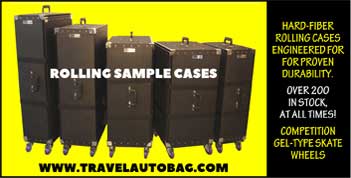 Patternmaking, cutting, sewing and finishing parts, supplies, and equipment.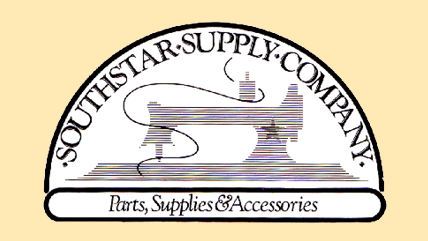 Stock complete lines of packing supplies, sanitary supplies, cutting room tools, sewing machine supplies, dress forms, hangers/polybags, pattern papers & garment bags. Domestic & import. Also, locations in China & Korea.
Mannequins, forms, decorative bases, display fixtures & custom furniture. Work with all apparel markets, plus accessory, jewelry & footwear trades.
Latest fashion beads, pendants, stones & simulated pearls for accessories & apparel. We feature Glass, Acrylic, electroplating, base metals, Swarovski® crystal beads, buttons, chains & components, plus tools, glues, stringing materials and findings. Custom orders welcome.
Manufacturer of Janie® the dry stick spot remover. Safe for any fabric or color. www.tenseconds.com
World's leading manufacturer and designer of hangers, but what we really deliver to customers is enhanced garment presentation.
Manufacturer of fusing machines, pocket creasers, hanger dispensers, heat seal & heat transfer machines, robotic stackers, label pickers & dispensers, belt loop processors, rewinders, air operated turners & inverters & custom sewing/production equipment. All machines proudly made in the United States.
AIT is a manufacturer of fusing, heat transfer and fabric measuring and inspection equipment and material handling carts and racks for roll goods and apparel.
Manufacturers of high quality custom printed poly bags, paper bags and cotton drawstring bags for the retail/fashion industry.
All kinds of screen printing supplies, heat transfer equipment, hot fix plus hot stamping machines and supplies.
Complete line of retail store fixtures and displays. Racks, hangers, rolling cases, apparel steamers, hanging and shelving systems, mannequins, garment bags, gridwall, slatwall, accessory displayers, dressmaker forms and more.
World's largest producer of fit mannequins.
All types of hangers, fixtures, mannequins & dress forms. Also, all types of shipping hangers & poly bags. Plus, any possible type of notion for apparel production, including program hangers.
Sewing supplies & equipment. Cutting tables, dress forms, elastic, buttons, industrial/home irons, jiffy steamers, garment bags, garment racks, sewing supplies, interlining/interfacing, pattern paper, dotted paper, hangers, polybags, ribbons, tapes, zippers, threads & labels.
The specialists in pressing & fusing equipment. Hoffman pressing equipment, Naomoto irons, self contained vacuum tables, Reliant fusing & laminating machines & Koenig full range of press parts & supplies, pads & covers. Also, a complete inventory of spare parts.
Branding trims, woven labels, heat transfers, Packaging supplies. Rigid boxes, folded boxes, j boards, poly bags, vinyl bags and canvas bags plus molded plastic hangers and accessory cards.
Manufacturing since 1959 embroidery machines from 1 head to 56 heads. Embroidery software by Wilcom and Compucon.
Full line of quality imprinted garment bags. Vinyl and pp non woven suit bags for men's clothing, ladies fur coat garment bags, wedding gown bags & accessories. Customer logos are reproduced for instant recognition.
We have been selling pattern making & sewing supplies for over 30 years. Product line includes: muslin, green & white pattern paper, dotted marking paper, plotter machines & paper, hangers, poly bags, YKK zippers in all colors plus 400 colors of thread in stock at all times.
Manufacturer of application engineered papers with over 37 years experience in dye sublimation and sewn products. A full suite of sublimation products including TexPrint® transfer papers, ProTex™ protection tissue as well as TexStyles® graphic fabrics.
A large product line of new and pre-owned sewing machines, pressing, finishing & cutting room machines, automated units, parts, service, training and consulting. Also specialize in the import & export of electronic control & control systems.
Manufacturer of innovative and technology-driven industrial sewing and garment decorating machines. Also offer software and full line of parts and accessories. Backed by fast and friendly technical support.
All makes and models of new and used sewing machines. Also distribute Jack machines through out North America, Mexico, Central America and the Caribbean Basin.
Designer & manufacturer of specialized industrial sewing machines for the apparel market. We are the preferred converter by Juki, Brother and Singer.
Specialize in sewing machines, hand operated button sewing machine, swatch cutting, and pleating equipment used in the textile industry, dry cleaning establishments and laundries.
Tags, labels & packaging manufacturer. Global supplier of brand packaging solutions for the apparel & retail industries. Specialize in printed products, woven labels, packaging, polybags, heat transfers, and brand authenticity.
Supplier of equipment, parts and supplies to the sewn products industries since 1969. Apex manual spreading machines and KM cutting along with Juki, Brother, Mitsubishi, Durkopp, Consew and Kansai sewing machines.
Complete line of industrial cutting and sewing equipment, supplies and more.
Full line distributor of industrial sewing, embroidery, quilting, bedding and cutting machine parts, NEEDLES, accessories and supplies.
All types of plastic & metal hangers, printed poly bags, shipping boxes, printed business forms, cutting room supplies & pattern paper. Cater to the New York & New Jersey areas mainly.
Display hangers & body forms.
Over 10,000 items in stock and ready to ship. Complete line of cutting machines & supplies, dress forms, heat transfer machines, irons, pattern supplies, price guns, retailers supplies, scissors, sewing machine parts, swatch cutters, tagging & much more.
Global supplier of new and used industrial sewing machines, parts, supplies, accessories, R&D devices and attachments for the sewn products industries.
Decoration equipment for all your apparel needs. US distributor for TAJIMA embroidery machines, TAJIMA DG/ML by Pulse digitizing sofware, MHM screenprinting machines, SEIT textile lasers, Kornit direct-to-garment machines & Mimaki direct-to-garment machines.
Full service printing and packaging. Retail packaging, shopping bags, gift boxes, wrapping paper, non-woven bags, garment covers and more. Low prices, custom logo, manufacture worldwide & drop ship.
Apparel & accessory bags in all sizes. Available materials are vinyl, PEVA, PPNW, canvas, hemp/cotton blend, and others. Custom and stock available.
Tags, twill tapes, hanger tape, safety pins & more. Domestic & import.
Dealer of new and used industrial sewing machines. Full line of Juki Industrial, Union Special, Pegasus, Brother plus replacement parts. Also large selection of new and used cutting machines and cutting tables.
Top quality ergonomic height-adjustable work tables (electric and manual), industrial work benches, sewing machine ergo stands and industrial sewing machine pedal systems.
Sewing threads, elastics & interlinings. Carry all types of design & cutting room supplies and accessories. In business since 1937!
All kinds of cleaners & custom tailor supplies.
Converter, global supply & sourcing specialists. VICS compliant poly bags & hangers, plotter papers & pens, perforated Kraft & Wax paper & disposable cutting pads for clickers. All pattern, design, cutting room CAD/CAM, sewing, shipping & packing supplies.
One of the oldest embroidery machine manufacturers in the world. Offer machines that are larger than 8 heads and up to 36 heads that can sew flat embroidery only. Machines can be equipped with sequin and piping devices for added decorating capabilities.
Supplying the garment industry with all its paper needs including dotted paper, plotter paper, oak tag, tissue paper, wax, and cutting room supplies plus a full range of sample room supplies.
Custom shopping bags, boxes and ecommerce packaging. 50 years of experience with high end cosmetic, apparel & retail stores. Full line of stock and custom packaging. Factory direct prices.
Leading manufacturer of high speed folding & packaging equipment for the textile & apparel industries. The most innovative solutions in automatic folding, bagging & heat sealing equipment as well as production packaging equipment. Also, custom machinery design. Poly Bags are Available
Wholesaler of mannequins of all types. Plus show cases, slat walls, wide variety of hangers, racks & mannequin alternatives.
Stock complete lines of packing supplies, sanitary supplies, cutting room tools, sewing machine supplies, dress forms, hangers/polybags, pattern papers & garment bags. Domestic & import. Also, locations in China & Korea.
World-wide supplier of machinery and equipment for the needle trade. We sell both new and reconditioned sewing, pressing and spreading equipment. We also stock a large number of parts for all types of machines.
Full line of showcases, wall equipment, displays, jewelry displays, sunglass displays, mirrors, racks, mannequins, body forms, hosiery displays, hangers, store supplies & more.
Manufacturers of Royal Dress Forms and all types of display mannequins.
LARGE SELECTIONS OF SPORT and other Mannequins, extensive experience in the manufacturing of mannequins, showcases and dress forms. Showroom/store open to the public.
LARGE SELECTIONS OF SPORT and other Mannequins, extensive experience in the manufacturing of mannequins, showcases and dress forms. Showroom/store open to the public.
Custom designed promotional bags. PVC rubber fabric & more.
Over 50 years servicing apparel, home fashion & industrial textile with new & used industrial sewing & embroidery machines. Also, a large inventory of replacement parts. Mimaki, Tajima, Pulse Microsystems, Brother, Poli-Tape/RB Flex, Eastman, Merrow.
Everything needed to put your design & patterns on paper. Dotted marking paper, hard manila pattern papers, pattern making tools etc. Our complete line of cutting room papers are available for next day shipments. Retail packaging,shopping bags,custom Eurotote designs, boxes, gift wrap, labels, bows, hangers, shipping supplies, pricing guns. Eco-friendly alternatives.
Carry a complete range of fashion industry supplies & equipment. Sewing supplies, thread, linings, pattern making supplies, dress forms, sewing machines, ironing systems, zippers, elastic, notions, textile cleaners & bridal supplies.
Distributor of the world's leading brands of industrial sewing machines, including Juki, Pegasus, Kansai Special, Brother, Jack and Vi.Be.Mac. Also provide over 100,000 different replacement parts for many leading brands of sewing machines.
A wholesale shipping box company that offers over 1000 various sizes and strengths of boxes for shipping garments, shoes or accessories. We also offer all other shipping supplies including tape and packaging materials.
Industrial sewing machine manufacturer.
All types of scissors, shears & thread nippers for industrial use.
Carry every type of sewing notion. Cater to manufacturers & costumers.
Display forms and Fitting Forms custom made and stock sizes
Major supplier of packaging specialties. We carry a large selection of tag attaching guns, needles and fasteners.
Distributor of cutting room papers, pattern supplies, care labels, and bar code printers and labels. Affiliate of Label It, Inc. 305-887-4949.
Manufacturer of cutting tables, air flotation tables, vacuum tables, sewing machine tables, cloth spreading machines, and material handling equipment.
USA manufacturer of industrial sewing machines and parts plus repairs and refurbish. New Product: Automatic CNC cutter with affordable price and no maintenance contracts!
The oldest sewing machine and cloth cutting equipment distributor in Florida; established in 1964. Representing Juki, Union Special, Yamato, Pegasus, Pfaff, Kansai, Eastman, Unicraft. Supplying new & used machines, genuine parts and service.
Supplying the pleating trade, bibs, binding & trimming trade since 1925 with pleating papers & tapes, yarn for bias binding & cutting room supplies.
Dress forms and model forms.