LABELS - Page 1 of 45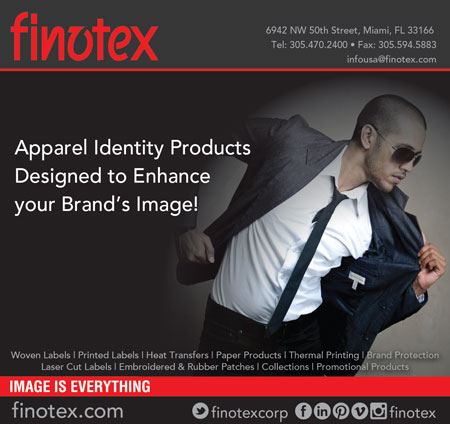 6942 Northwest 50th Street
Miami FL e-mail
800 786 0007 Fax: 866 499 1544 View Google Map

Finotex is the largest woven & printed label producer in the Western Hemisphere & is rapidly growing in Asia. Heat transfers on rolls & single pieces, hangtags & paper products, laser cut labels, thermal printing equipment, ribbons & tapes, brand protection solutions.
Minimums:Vary
---
Sourcing Made Simpler/On-line Access
Compare FINOTEX with all 45 listings in LABELS on one page! Access to over 2,000 nationwide suppliers of all types of Fabrics, Trims, Services & more for the apparel industry. "ONE CLICK" to contact suppliers via email and/or their websites.
Awesome for your iPad, iPhone and your laptop. All for less than $ 2.00 a week!
Fashiondex Quick Links
Fabric Services & Trim Suppliers

Contractors (American Edition)

Contractors (Asian Edition)

Branded Apparel Manufacturers

Other Links