---

---




The Fashion Designer's Sustainable Sourcebook
The new directory of apparel industry suppliers who collectively want to help lessen the impact our industry is making on our environment.
Birnbaum's Global Guide to Agents and Buying Offices




Stitch Sample Kit The Stitch Sample Kit contains over 80 mounted swatches of current stitches and techniques used within the garment industry today.

List my company

Fabric Listing Form
Trims Listing Form
Service Listing Form
An excerpt from The Birnbaum Report/Strategic Sourcing for Garment Importers.
Guide for shopping the fabric market dedicated to all the newcomers to the industry.
Glossary of frequently-used textile, manufacturing, development, production, and commercial shipping terms in the apparel industry.
More Help
LABELS - Page 1 of 45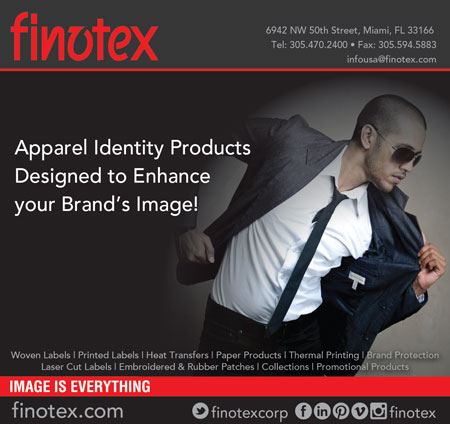 6942 Northwest 50th Street
Miami FL e-mail
800 786 0007 Fax: 866 499 1544 View Google Map

Finotex is the largest woven & printed label producer in the Western Hemisphere & is rapidly growing in Asia. Heat transfers on rolls & single pieces, hangtags & paper products, laser cut labels, thermal printing equipment, ribbons & tapes, brand protection solutions.
Minimums:Vary
---
Sourcing Made Simpler/On-line Access
Compare FINOTEX with all 45 listings in LABELS on one page! Access to over 2,000 nationwide suppliers of all types of Fabrics, Trims, Services & more for the apparel industry. "ONE CLICK" to contact suppliers via email and/or their websites.
Awesome for your iPad, iPhone and your laptop. All for less than $ 2.00 a week!
Fashiondex Quick Links
Fabric Services & Trim Suppliers

Contractors (American Edition)

Contractors (Asian Edition)

Branded Apparel Manufacturers

Other Links