Beads & Novelties Suppliers.
Har-Man Importing is the choice for designers and manufacturers when seeking high quality trims and embellishments. Featuring an unmatched selection of Swarovski rhinestone shapes and colors. With longstanding relationships with European manufacturers, Har-Man continues to offer the best selection along with the best prices, with our price match guarantee. Har-Man is a Swarovski Authorized Reseller and an Authorized Distributor for Preciosa Ornela (Czech glass beads and seed beads). Catalog Available. Join our mailing list for information on sales and specials.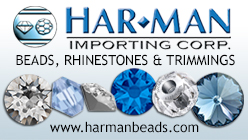 Line of rhinestones, imported imitation pearls, unique & exotic shells, real horn, corozo, glass, wood, leather, passamentry & polyester in the latest designs & materials as well as the basics.
Shop our new web store www.ElveeBeads.com for new and vintage fashion beads, pendants, stones, simulated pearls. Beads in glass, acrylic,electroplating, all types of base metals, & Swarovski crystal. Plus buttons, chains, components, beading tools, glues, stringing materials & findings. Custom orders welcome.
All types of beads & novelties. Manufacturer. Custom development. Domestic & import from Hong Kong, Korea, India, Mexico. Popular price points. Samples available. Cater to apparel, accessory, home furnishing and jewelry markets.
Acrylic gemstone manufacturer, importer and distributor. Hotfix rhinestones, nailheads and related products. Offices in Canada and China.
Manufacturer & importer of the latest high fashion & basic beads, simulated pearls, cast metal, glass, plastic, crystal acrylic, rhinestone crystals, metallic beads, cloissone. Also do custom work such as dyeing acrylic beads, beading rosary chain, etc.
Supplier for all beading supply needs. Findings in base & precious metals. Major suppplier to bead stores & jewelry supply houses. Direct importers of Swarovski and Preciosa crystal beads, Jablonex, Miyuki, Matsuno & more.
Manufacturer of natural wood beads, as well as natural wood buttons, toggles & buckles. Factory located in Brooklyn, NY
Vintage closeout craft and jewelry supplies. Rhinestones, beads, seed beads, cabochons, findings, filigree, cameos, stones, chain, plastic beads, parts, etc. Must have a Tax ID (any state), Business EIN #, or International Proof of Business. Also buy liquidations.
Manufacture & distribute pewter beads, charms, pendants & all types of jewelry components. All pewter components are made in the USA. Can create custom castings such as: charms, logo tags, medallions.
Shop our new web store www.ElveeBeads.com for new and vintage fashion beads, pendants, stones & simulated pearls for accessories & apparel. Feature glass, acrylic, electroplating, base metals, Swarovski® crystal beads, buttons, chains & components, plus tools, glues, stringing materials & findings. Custom orders welcome.
Specialize in making custom trims, especially for swimwear. Embellishments include: beads, sequins, rhinestones, flowers, heat transfers, brooches, buckles, appliques, laces & fringes. Produce all kinds of heat transfers such as rhinestones, nailheads, pearls, flocking, glitter etc. and provide in-house application. Drop ship worldwide.
Beaded appliques & trims, beading on net & fabric, beaded lace trims & mirror trims. Import from China & India. Cater to womens, embellished lingerie, dress, evening, bridal, accessory & home trades. All price points.
Domestic manufacturer of beads for the apparel, jewelry and craft industries. Lots of colors, shapes and patterns, all plastic and some metalized. Call for catalogue.
Leading supplier of genuine semi-precious color gemstones, beads,natural stones,blackonyx carnelian,tigereye, lapis pearls,lab created gemstones corundum, CZ & synthetic gemstones. Ruby,Sapphire Aqua Amethyst,Garnet,Peridot,etc
All types of beads, novelty buttons & rhinestones imported from the Far East and the Czech Republic. Deal with all apparel markets.
Precious & semi-precious stone beads, cultured pearls, precious metal beads, stringing supplies & cut stones for the jewelry market. Domestic & import. Catalogue available. Popular to better price points. Wholesale only.
All types of fashion forward beads, beaded trimmings, rhinestones & everything else in trims. Cater to womens, kids & lingerie markets. Manufacturer, importer & distributor. Domestic & import from China, Mexico, Canada & India.
All types of beads, beaded fringe, Indian beaded trim as well as costume jewelry trim. Wholesale and retail. Domestic & import worldwide.
Rhinestones, beads, jewelry findings, nailheads & trimming. Huge selection of Quality Czech products including Preciosa Genuine Czech Crystal and Ornela Rocailles.
Direct importers of beads, pearls, jewels and trimmings from the Czech Republic, Germany, Italy, Japan, Taiwan, Korea & Hong Kong. Catalogue available.
All types of glass beads. Preciosa crystal, buttons, pearls, rhinestones, flat backs, rhinestone hot fix & sew-on stones. Manufacturer & importer. Import from the Czech Republic. Preciosa crystal dealer. Popular price pts. Work with all markets.
Jewelry beads & components, fashion accessories, home accents & novelties. Importer/manufacturer. Natural, wood, bone, buffalo horn, shell, natural seed & fiber, lucite, clay & metal beads from the Phillipines. Custom designs.
All types of intricate beading and embroidery for manufacturers of haute couture, eveningwear, bridal, ready-to-wear, shoes, handbags, accessories and home furnishings. Hand done in company-owned factory in New Delhi, India.
Manufacturer & importer of aluminum, brass, bugle, ceramic, alphabet, glass, plastic, rhinestone, seed, wood & pearl beads. Cater to the apparel industry. Catalogue available.
Specialize in beaded trims and necklines as well as different types of appliques. Offices in NY and Italy. Budget to better price points.
Importer of beads, imitation pearls, stones, chains, leather cords & findings from Germany, Czechoslavakia, Taiwan, Japan, China, Greece & Korea. Cater to the costume jewelry & apparel industries.
Fine-cut crystals, crystal beads & crystalline semi-finished goods for the fashion, jewelry & interior design industries. Import from Austria. Cater to all markets.
Authentic Venetian beads imported from Italy. Murano glass beads, Murano glass pendants and jewelry.