Stretch Wovens Suppliers.
Woven stretch imported from Europe & Asia. Yarn-dyes, plaids, textures & paper tafettas. Solid or with prints.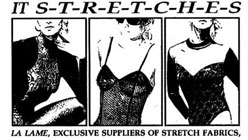 All types of bottom weight stretch wovens. Twills, herringbone & tweeds. Domestic & import from Asia. Cater to the men's, women's, junior's & children's markets. Moderate price points.
Since 1903 Fishman s Fabrics offers an extensive collection of woven stretch fabrics. Three of our lines have become best sellers within the garment industry: Seventh Avenue Stretch, Hollywood Stretch, and Soho Stretch. Large USA inventory. Color cards available upon request. www.fishmansfabrics.com
Fine shirtings in 100% Egyptian cotton. Solids, piques, fancy stripes, twills, jacquards, cotton/Lycra blends (stretch), oxfords, tone-on-tones, pinpoints, yarn-dyes & more. Import & domestic. Mens, womens & kids markets. Moderate to better price points.
Manufacturers of the TRUFLEX line of stretch fabrics. Non-lycra, non-spandex cotton & polyester blends for uniform, hospitality and fashion wear. Domestic.
Silk/lycra blended wovens available in colors or greige goods. Plant in U.S.A. Cater to mens & womens better & above markets.
Woven stretch wool & wool blend suitings & novelties. Jobber. U.S. & imported. Cater to mens & womens suit, coat, career & casual markets. Work with all price points.
Cotton/lycra stretch twills, denim, satin, charmeuse & poplin. Converter. Domestic & import from China, Japan, Italy & Korea. Cater to men's, women's & children's evening dress, blouse, shirt & sportwear markets. Moderate price points. Large in stock inventory.
High quality polyester & poly blended stretch woven linings & novelties. Domestic & import. Worldwide delivery for 35 years. Offices in New York, Shanghai, Beijing & Hong Kong for immediate 5 million yards ready stock delivery.
All types of stretch fabrics. Stretch fancies, velvets, velour taffetas, sequinned, shimmers, chiffons, cotton dobbies & other. Cater to womens & childrens markets. Moderate to bridge price points.
Oldest U.S. selling agents, established in 1936. Carry all types of novelty stretch wovens. Cater to mens & womens moderate to bridge markets. SKYPE: ETTC108
Wide range from the finest voiles to broadcloth, piques, twills, sateen. PFD available. 100% cotton and blends (polys, viscose, silk, linen), LYCRA/SPANDEX. Solids. Many white qualities with No Minimums. Other qualities priced by quantity ordered from Barcelona, Spain.
Sublimation on premise Custom print roll to roll All kinds of fabrics with lycra & stretch wovens. Small & large production lots.
Woven blends of linen, linen/cotton, linen/rayon with lycra & stretch. Piece-dyes, yarn-dyes & stretch linen novelties. Import from own mill in China. Work with all markets. Moderate price points.
Variety of fancy yarn dyes, jacquard's, plaids, stripes, solids and novelty fabrics. Sportswear, suiting, shirting weights from 5oz & up. Catering to the contemporary, missy & men's markets. Specialize in sculpted jacquard.
Novelty stretch suitings & textured fabrics in poly/lycra, poly/rayon/lycra & poly/nylon/lycra blends. Import from Far East. Cater to womens moderate to better career, casual & dress markets.
A large variety of knits and wovens in polyester, cotton, nylon and spandex fibers. North American manufacturer. Catering to uniforms, industrial uniforms, military textiles, performance textiles, base layers, sportswear & activewear markets.
Cotton/lycra stretch twills, denims and stretch velvet. Imports from Hong Kong. Cater to mens, ladies & children's popular to moderate markets.
Specialized source of stretch fabrics since 1991. Large selection of Spandex and Lycra®. Nylon Lycra®, Cotton Lycra®, stretch metallic, stretch holograms, slinky, stretch velvet, sheer mesh, sheer illusion sufflex & much more. Cater to active, sport & costume markets.
Wool & lycra stretch fabrics from Italy. Mill rep. Cater to mens and womens suit and careerwear markets. Better price points.
Nylon/spandex 4-way tricot, polyester/spandex 4-way tricot, cordura/lycra and 100% polyester woven stretch. Most styles of active/outerwear fabrics are available in a wide range of colors from stock.
Indigo denims & twills. Import from own mills in China & Mexico. Also, stretch denim, stretch twill & other novelties. 6 to 13 oz wts. Junior, mens, missy & plus size markets . New indigo denim 6 oz to 15 oz.
Indigo rigid denims from 6 oz to 15 oz & stretch denims from 6 oz to 13 oz. including stripes, slub, crosshatch, ring spun & patterned denims. Plus novelty/fashion twill in rigid & stretch. Produced in own mills in China & Mexico. Cater to junior, mens, missy & plus markets.