Silks/silk Blends Suppliers.
America's most comprehensive textile source. Over 40 coordinating colors in silk chiffon, habotai, cdc, organza, satin, shantung and 4ply crepe. The largest selection of dupioni silk in stock. Also, taffeta, duchess, brocades, velvets & unique novelties. Jobber & importer.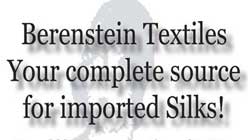 Specializing in fine silks: georgette, crepe back satin, CDC, charmeuse, plain & satin face organza, 4-ply silk crepe, silk knit, silk taffeta & dutchess satin, most in stock with 98 stock colors.100% English wools, European novelties, French laces by Darquer. Solids & prints.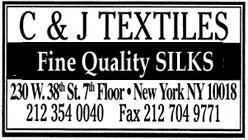 All types & weights of silk & silk blend fabrics. Charmeuse, georgette, organza, satin, taffeta, crepe, dupioni, velvet, organdy & more. Jobber. Full service plus books & shade cards available. Cater to designer & above mens & womens markets.
Couture & RTW collection of allover embroideries, sequins, crystals, foil applications & laser techniques for bridal, evening, sportswear, RTW & costumes. Programs for accessory & shawl markets. Rep Jakob Schlaepfer & Filtex-St. Gall. Swiss Made
Stock all styles of silk in 144 colors! All types of 100% silk fabrics & novelties plus silk/cotton & silk/lycras. Plant in U.S.A. Cater to mens & womens better & above markets.
Import 100% pure silk, silk & rayon blends in plain, hand screen printed, roller printed & jacquard designs from the finest mills the world over. Special designs or logos are our specialty. Medium to high end price points.
All types of solid & fancy silks from India, China & Korea. Tafetta, dupioni, shantung, chiffon, satin, organza, metalics, jacquards, brocades, etc. Custom beading & embroidery work. Experts in custom prints. All weights & finishes. Sample yardage for custom work.
Large variety of silk fabrics & novelties imported from Italy & France. Also, polyester and silk prints out of Italy. Cater to women's shirt, blouse & couture bridal markets. Samples available.
Novelty yarn-dyes, dobbies, jacquards, dupioni, 100% silks, silk/acetate & silk/poly. Solids, stripes and plaids. Vertically integrated organization with manufacturing done in Plains, Pa. Cater to career & home furnishing markets.
Manufacture and stock fine silks for the apparel, bridal and home furnishing markets.
Silk dupioini & novelty suitings in 8 to 14 oz. weights. Jobber. U.S. & imported. Cater to mens & womens suit, coat, career & casual markets. Work with all price points.
Korea-based silk and silk-blended digital printing, screen printing, dye-to-match piece-dyeing, and weaving mill serving high-end ready-to-wear, bridal, and formal/evening-wear brands.
Converter & distributor of quality stretch & non stretch knit and woven fabrics including Matka silks. Domestic & import. Stocks inventory, samples in most fabrics & orders shipped next day. Moderate price points.
Importers of all kinds of silk & silk blended fabrics. Charmeuse, organza, CDC, jacquards, cloque, 2-ply & 4-ply crepe, dupioni, velvet, taffeta & georgette. Silk/cotton blended, silk/wool blended. Converter. Cater to neckwear, dress, blouse & lingerie markets. Moderate.
Specializing in assorted silks & novelties. Large selection of silk prints. With vertical factories globally, we are involved through the entire fabric and print selection from the start to completion. Some stock.
Charmeuse, chiffon, taffeta, organdy, dupioni & satin. Jobber. Domestic & import from India & China. Cater to all price points in bridal & eveningwear. Samples available.
We transform our copyrighted original artworks onto Silk, Silk Blends day and evening wear, Silk, Silk Blends in Novelties andĘ Jacquard. made in China.
Wide variety of silk qualities. All dyed & processed in U.S.A. Mill. Stock 144 colors. Cater to womens dress & evening markets, plus home furnishings. Custom dye/domestic printing avail. Better to couture price pts.
Oldest U.S. selling agents, established in 1936. Carry all types of silk & silk blends. Cater to mens & womens moderate to bridge markets. Skype: ettc108
World wide - over 1400 silks. Silk/cotton, silk/wool, silk/linen. All types. Import from China, India, Thailand & Korea. Cater to womens sportswear, lingerie & evening. Better to designer price pts. Samples & catalog available.
Importer, wholesaler & mill rep for woven silk fabrics & silk blends in solid colors, checks/stripes & embroidery for dresses, eveningwear, bridal & home. Also carry tweeds, matka, TGN. Silk/cotton/linen/lycra/Lurex & Viscose blends. Import from India.
Complete source for prints & novelties, such as silk chiffon, silk charmeuse, silk/cotton voile, polyester, cotton, burn-outs, velvets, lace, embroidery, eyelets, jacquards and more. These come in a variety of colors, patterns & effects. In-house design studio. Custom printing.
Specialize in handwoven, handmade silk fabrics and ethnic textiles made in Vietnam, Cambodia and Laos. Our silk fabrics range from elegant jacquards to stunning handwoven silk tussahs and ikats. Yarn or piece-dyes by hand. Swatches available.
We offer an incredible selection of beautiful high quality fine silk fabrics available in many patterns and colors. Be sure to view our website, www.jbsilks.com for design inspiration. All silk fabrics are in stock for immediate shipping.
Custom printing and dyeing specializing in silk/silk blends, cotton & linen.
All types of woven silk qualities & weights imported from China & India. Cater to all markets.
All types of silks, silk blends, cotton & other synthetic qualities in solids and prints. Import from China, Korea,Italy and Vietnam. Cater to mens and womens sportswear, dress & lingerie markets. Moderate to better price points.
Hand-dyed, shibori-dyed and rusted natural-fiber silk, bamboo and recyled-fiber blended fabrics. Dyed in intricate and unique patterns with natural dyes from iron, flowers, plants, insects, ruse, copper and trees. Utilize variuos hand-dyeing methods including immersion, fermentation, tieing, shibori, rust printing, patination, soy, and silkscreen. Cater to apparel, innerwear, loungewear and interior markets. Low minimums, small batches preferable.
Silks of varoius weights. Work direct with textile mills to provide wide selection, low prices, & quick turnaround.
Reps of Blue Star Silks. High end line of European and other high quality imported silks. 40mm Crepe Back Satin, 8mm and 15mm Satin Organza, San Remo Dupioni and more.
Silk chiffon, organza, embroideries, solids and textured raw silks. Cater to evening, bridal, sportswear, mens, womens & childrens markets. Moderate to couture. All types of silk fabrics, such as silk faille, taffeta, 4 ply crepe, satin face organza, and dupioni. All stocked in New York City
Large variety of silk fabrics & blends in all the basics & novelties. Imports from all around the world. Cater to fashion formal bridal, artistry & home furnishings.
Better silk chiffons, pure silk boucles & colorful tweeds, organzas, crepes & more. Imported. Better price points. Stockhouse.
Silk CDC, crepe, jacquard, broadcloth, taffeta, charmeuse, dupioni, suitings, georgette, organza & novelties in solids & prints. Converter. Import from India & Asia. Moderate to better markets. Garment packages. Showroom appt only: 40 W. 37th St, Ste 701, NYC 10018.
Specialize in a wide variety of updated prints in silk, silk blends, poly, and silk spandex jersey. Rayons, velvet burnouts, satin burnouts, silk crepe de chine, silk charmeuse, georgette, silk organza and silk chiffon.
All types of solid, yarn dyes and printed silks. Crepes, fuji and gabardines. Imports worldwide. Converter/manufacturer. Cater to sportswear and activewear markets. Moderate to bridge price points.
Premium silk textiles handmade in the rainforests of Madagascar by farmers and artisans utilizing a no-kill method that conserves vital rainforest areas without harming silkworms or other native species. Wild silkworms produce unique no-spun raw silk textures and variations. Certified Wildlife Friendly and member Fair Trade Federation. All proceeds support sustainable livelihoods. Cater to home fashions and apparel markets.
100% silk woven jacquards & cashmere/silk jacqurds. Cater to the men's tie & mens & womens sportswear markets. Import from Italy.