Sewing & Pressing & Equipment Suppliers.
We carry the professional supplies you need for patternmaking, cutting, sewing and finishing your sewn products.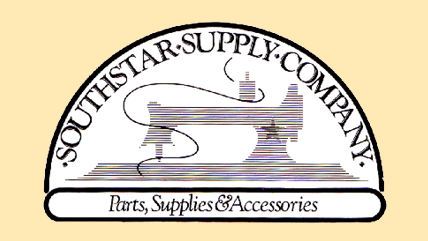 Sewing supplies, Cutting tables, Dress forms, Elastic, Buttons, Industrial/Home irons, Jiffy steamers, Garment bags, Garment racks, Interlining/Interfacing, Pattern Paper, Dotted paper, hangers, polybags, ribbons, tapes, zippers, threads & labels.
The specialists in pressing & fusing equipment. Hoffman pressing equipment, Naomoto irons, self contained vacuum tables, Reliant fusing & laminating machines & Koenig full range of press parts & supplies, pads & covers. Also, a complete inventory of spare parts.
A large product line of new and pre-owned sewing machines, pressing, finishing & cutting room machines, automated units, parts, service, training and consulting. Also specialize in the import & export of electronic control & control systems.
Manufacturer of innovative and technology-driven industrial sewing and garment decorating machines. Also offer software and full line of parts and accessories. Backed by fast and friendly technical support.
All makes and models of new and used sewing machines. Also distribute Jack machines through out North America, Mexico, Central America and the Caribbean Basin.
Designer & manufacturer of specialized industrial sewing machines for the apparel market. We are the preferred converter by Juki, Brother and Singer.
Specialize in sewing machines, hand operated button sewing machine, swatch cutting, and pleating equipment used in the textile industry, dry cleaning establishments and laundries.
Sales, Service, Parts and Needles and installation of New and Used Industrial Sewing Equipment. Also, Specializing in Development/Manufacturing of "Custom" Automated Equipment and Labor Saving Devices.
Complete line of industrial cutting and sewing equipment, supplies and more.
Complete source of cut & sew solutions. Large stock of new and used Brother, Consew, Durkopp Adler, Seiko, Juki, Kansai, Mitsubishi, Pegasus, Siruba and Yin machines.
Full line distributor of industrial sewing, embroidery, quilting, bedding and cutting machine parts, NEEDLES, accessories and supplies.
Complete design room supplies, pattern-making supplies, and sewing supplies. Full line of dress forms and display dress forms.
Distribution center for the Americas of Schmetz needles for industrial and household sewing machines & embroidery machines. Special needles for almost every application are available.
Global supplier of new and used industrial sewing machines, parts, supplies, accessories, R&D devices and attachments for the sewn products industries.
Dealer of new and used industrial sewing machines. Full line of Juki Industrial, Union Special, Pegasus, Brother plus replacement parts. Also large selection of new and used cutting machines and cutting tables.
Innovative supplier for the garment industry and heavy duty sewn products markets of high quality sewing equipment for over 70 years.
Top quality ergonomic height-adjustable work tables (electric and manual), industrial work benches, sewing machine ergo stands and industrial sewing machine pedal systems.
Single source manufacturer of all types of sewing equipment plus sewing applications. Activeseam a Merrow branded stitch outperforms similar flatlock stitching. Rated 30% stronger & twice the amount of stretch. Producer of WoolPRO Merino Apparel
World-wide supplier of machinery and equipment for the needle trade. We sell both new and reconditioned sewing, pressing and spreading equipment. We also stock a large number of parts for all types of machines.
Carry a complete range of fashion industry supplies & equipment. Sewing supplies, thread, linings, pattern making supplies, dress forms, sewing machines, ironing systems, zippers, elastic, notions, textile cleaners & bridal supplies.
Distributor of the world's leading brands of industrial sewing machines, including Juki, Pegasus, Kansai Special, Brother, Jack and Vi.Be.Mac. Also provide over 100,000 different replacement parts for many leading brands of sewing machines.
Industrial sewing machine manufacturer.
Manufacturer of cutting tables, air flotation tables, vacuum tables, sewing machine tables, cloth spreading machines, and material handling equipment.
USA manufacturer of industrial sewing machines and parts plus repairs and refurbish. New Product: Automatic CNC cutter with affordable price and no maintenance contracts!
The oldest sewing machine and cloth cutting equipment distributor in Florida; established in 1964. Representing Juki, Union Special, Yamato, Pegasus, Pfaff, Kansai, Eastman, Unicraft. Supplying new & used machines, genuine parts and service.