Polyester/polyester Blends Suppliers.
America's most comprehensive textile source. Chiffon, georgette, costume & stretch, crepe, microfiber, suede, faux fur, lame, lining, taffeta, organza, satin, tulle, velvet, brocade, embroidered fancies & more. Domestic & import. In stock all year.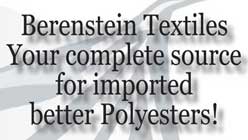 Polyester charmeuse, organza, satin & georgette. Domestic & import from Asia. Cater to the men's, women's, junior's & children's dress & eveningwear markets. Moderate price points.
Couture & RTW collection of allover embroideries, sequins, crystals, foil applications & laser techniques for Designer, Bridal,Evening, RTW, Interior & Costumes. Programs for accessory & shawl markets. Rep Jakob Schlaepfer & Filtex-St. Gall. Swiss Made.
Source for all types of polyester and poly blend qualities in all weights. Domestic. Jobber. Cater to men's & women's apparel & uniform markets.
Truflex family of stretch blends. Cater to uniform and basic fashion markets. Domestic.
Import rayon polyester blends,100% polyester & polyester blends in plain, hand screen printed, roller printed & jacquard designs from the finest mills the world over. Special designs or logos are our specialty.
100% polyesters and machine washable polyester worsted wool blends. Low prices & large selection.
A large selection of polyesters in micro fibers, chiffons, failles, etc. Import from Korea, India and China. Offer a range of competitive and better and above price points.
Converter of poly/rayon & poly/tencel qualities, fine linings & novelty fabrics. Domestic & imports from Korea. Cater to all markets & all price points.
Large in stock inventory of knit & woven fabrics. All types of cottons, denim, linens, silks, satins, rayons, poly & blends. Plus poly rayon jersey spandex. Converter. Domestic & import from China, Japan, Italy & Korea. Cater to men's, women's & kid's apparel. Moderate price pts.
Chiffon, georgette, crepe, velvet, stretch velvet, novelty velvets & velour. Imports from the Orient, export. Importer/converter. Cater to womens & kids active, dress & sportswear. Knitting mills worldwide. Domestic stock fabrics and overseas garment packages.
Converter, importer and wholesaler of polyester and polyester blends.
High quality polyester & blended fancies, taffeta, twills & novelties. Worldwide delivery service for 35 years. Offices in New York, Shanghai, Beijing & Hong Kong for immediate 5 million yards ready stock delivery.
Faille, jacquared, cdc, novelties, charmeuse, georgette, microfiber & fancies in solids & prints. Import from Taiwan, China & Korea. Sportswear, lingerie, intimate, dress & blouse markets. Popular to better.
Polyester & blends in prints for all markets. Manufacturer.
Manufacturers of Ecopile® fabric made with 100% post-consumer recycled/PET bottles as well as blend of PTE and organic cotton and wool. CAD studio to develop custom patterns, 40 knitting machines, dye house and finishing department all on site. Work with mens, womens and kid's outerwear markets, plus pet, , personal protection and industrial markets. Small minimums.
Polyester and blends, knits and wovens, with and without stretch. Recycled polyester and blends in a variety of weights, weaves and knit stitches. Minimum yardage requirements based on individual item selected.
All types of poly fabrics specializing in home decorating textile.
All types of polyester, polyester blends, solids, prints & novelties. Knits & Wovens. Domestic & import. Budget to moderate price points.
Importer, wholesaler & mill rep for polyester fabrics in solid colors. Poly Dupionni Plain, poly taffeta, poly satin, poly silk taffeta, poly jacquards. Polyester prints. Poly/Viscose/cotton/linen blends. Dresses & home markets. Import from India.
Div of Ames Textile Corp. Warp & circular knit polyester & polyester/spandex performance fabrics for all team sports, medical & leisure wear. Registered fabrics: Dazzle™, Micro Mesh™, Pro Brite™ & Pro Flex™. Stock fabrics dyed to SGMA specs. Converter & mill.
US manufacturer of certified organic cotton and eco-fiber circular knit, warp knit and woven fabrics with seamless manufacturing and distribution. Organic cotton, recycled cotton, recycled polyester, seaweed, PLA, bamboo, hemp, Modal™, Tencel™, soy and blended jerseys, mesh, pique, crinkle, velour and sherpa. Large in-stock program, plus can do custom fabrics. Also can do sample yardage.
Stock 100% wool, polyester and wool blends, 100% polyesters, polyester and cotton blends and all cotton fabrics - both woven & knit in a wide range of colors. Cater to the uniform market.
Polyester CDC, charmeuse, jacquards,organza, novelties, prints & fancy eveningwear fabrics. Converter, importer. Cater to evening, bridal, career, blouse, lingerie & contemporary markets. Popular to moderate price points.
Importer and representative of Avanti-Japan. Producers of high-quality, certified organic, natural-fiber, organic cottons, recycled polyesters and biodegradable Japanese textiles. Cater to mid-to-high end mens and women's apparel, uniform and interior markets.
Manufacturer of felts and fabrics made of Eco-fi® 100% polyester fiber, made from recycled post-consumer plastic bottles. All felts and fabrics made in USA. Cater to craft, home fashions and accessory designers as well as sell to retailers and distributers. Minimums are 20 yards.
Stock fabric house. Lamour polyester satin, poly bengaline, bengaline moire, MJS spun poly, poplin, shimmer, pintuck, voile 118", 60"crystal organza, habutae, poly taffeta lining, lusterglow knit stretch etc. Many are flame retartant meeting NFPA701. Apparel, event, home markets.
Georgette, acrylic jacquard, crepe, charmeuse, panes, chiffons, clips, faille, CDC, gabardine, microfiber, y/dyes, prints & novelties. Import from Far East. Cater to women's sportswear, dress & blouse markets.
Polyester jacquards, satin charmeuse, georgette, organza, koshibo crepe, moss crepe, yarn-dyes & solids imported from the Orient. Cater to mens, ladies & children's apparel. Popular to moderate price point markets.
Many colors in georgette, organza, silk chiffon, pongee, taffeta, bridal satin, crepe back satin, peau de soie, silk charmeuse, brocade, jacquard, crepe soiree & novelties. Far East imports & domestic.
Huge selection of in-stock woven jacquards, tapestries, velvets & chenilles. Made in China, Italy & Belgium. Innovative looks & great values.
Faille, gabardine, jacquards, organza, georgette. Poly, poly/cotton, poly/rayon & poly/wool types. Special occasion, service industry and fashion basics in stock. Solids, prints, yarn-dyes & custom printing.
Domestic knitting mill featuring basic and unique, novelty circluar knits in ultra-fine to coarse gauge sweater knits manufactured with blends with Repreve recycled polyester, Tencel and recycled cottons. Qualites include: knit jersey, single and double knits, interlock, ribs, jacquards, french terry, loop terry, and many more. Many finishes available. Manufacture with 50% less energy tham standard knitting mills.
Large variety of fabrics in 100% polyester & poly blends. Import from China and Korea. Popular price points for the womenswear markets. In stock. Samples available.
Vertically integrated leading global wholesale fabric supplier. Large selection of polyester/fleece, poly/rayon, poly/cotton, interlock, velveteen and much more.
Polyester in different weights. Manufacturer and distributor. Domestic and import. Cater to apparel and home furnishing markets.
Supplier of polyester & blended twill, polyester bengaline, bengaline moire and poly suede. Cater to home accessory markets. Better to designer price points.
All types of polyester & poly blend qualities in all weights. Converter. Import from Eastern Europe, India & Asia. Cater to moderate to better mens, ladies & kids sportswear & dress markets. Garment packages. Showroom by appt only: 40 W. 37th St, Ste 701, NYC 10018.
Poly & poly/blends include 7 oz poly/cotton twill, micro fibers, taffetas, iridescents, mesh, satin & stretch. Multiple finishes, waterproof breathable, wicking & ultra violet protection. Wovens & knits. Solids, prints & safety for active, outerwear, rainwear markets.
Taffetas, twills, oxfords, water-repellant, cotton blends, satins, chiffons, georgettes, mesh, voiles, crepe, tech/outerwear. In-stock program. Domestic & global distribution. By appointment only.