Knits With Stretch Suppliers.
Complete line of all types of stretch novelty knits. Lots of texture, surface and metallic effects. Spacers/Scuba, Neoprene, Performance. Domestic & imports from Europe & Asia. Cater to all markets.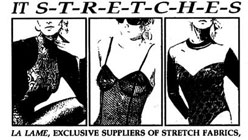 Incredible selection of knits for theatrical, costume & performance markets. In stock program in over 60 colors of nylon spandex with coordinating power mesh. Also specialize in stretch velvet, micro jersey, double knit ponte, stretch vinyl, glitters, sequin & novelties. Jobber & importer.
Completely vertical from knitting to dyeing. Knits, knits with stretch, denims, twills, corduroys, cotton/cotton blends, terry, fleece. Domestic & import. Moderate price points. Cater to the women's and junior's casual line. Samples available.
Couture & RTW collection of allover embroideries, sequins, crystals, foil applications & laser techniques for bridal, evening, sportswear, RTW & costumes. Programs for accessory & shawl markets. Rep Jakob Schlaepfer & Filtex-St. Gall. Swiss Made
Poly/rayon spandex jersey, cotton/spandex jersey, cotton/spandex french terry, rib, sweater knits, meshes, stretch velvet, thermals, burnouts, laces & more. Domestic & import from Asia. Cater to the men's, women's, junior's & children's markets. Moderate price points.
Domestic raschel, nylon and nylon/lycra knits. Manufacturer. Cater to moderate and better ladies and intimate apparel markets.
Stretch knit fabrics, Cotton Jersey Spandex, tricot, velvet and more. Domestic & import from China, Japan, Italy & Korea. Converter. Cater to men's, women's & children's evening dress, blouse, shirt & sportswear markets. Moderate price points. Large in stock inventory.
High quality Bemberg® & poly-blended stretch linings & novelties. Domestic & import. Worldwide delivery for 35 years. Offices in New York, Shanghai, Beijing & Hong Kong for immediate 5 million yards ready stock delivery.
The outdoor fabric resource. Performance stretch base layer & first layer products in both circular & warp knits as well as stretch wovens, performance tricot & mesh liners & pocketing. Cater to the outer, active & sport markets. Mill representatives.
Stretch warp knit hi-tech fabrics. Stretch knit blends, tricots, raschels, satins, sheers, meshes & sueded fabrics. Domestic mill manufacturer. Cater to active/athletic, swimwear, & intimate apparel markets. Also, offer embossing, foils, wet printing on nylon/spandex fabrics, plus performance finishes.
Performance fabrics for rugged and outdoor wear. Use sustainable fabric production to create ultra-light, durable, antimicrobial, flame retardant stretch base fabrics with moisture management, including Celliant (energy enhancement fabrics), plus: jersey, interlocks, piques, fleece, mesh, crepes, lycra blends and flat back mesh in novelty stitches. Also produce Velproof (4-way stretch woven hi-tech fabric with soft-shell technology). Sustainable fibers include Ingeo fabrics, post-consumer recycled fibers, eco-spun and organic cottons. Cater to outdoor, sport, fitness and activewear markets.
An on-line stretch fabric retailer & wholesaler. Cotton blends, silk blends, nylon/nylon blends, polyester & blends, acrylic & blends, tricots, lace, metallics. Domestic & import from China & Korea. Moderate to couture price points. Athletic & swim markets.
We specialize in elastic wrap & weft knitted fabrics for swimwear, athletic wear, costume wear, dance wear, and high performance active wear markets. We provide top tier textiles that conform with highest standards of safety & non-toxicity. Domestic & location in China.
Micro polyester, rayon, tencel, cotton, tactel & meryl nylon, supplex lycra spandex. Variety of knit fabrics including novelties, pont de roma, jacquards & yarn dye stripes plus many technical fabrics, wickable, UV cut in stretch circular knits. One million yards in stock.
All prints on poly/lycra's. Cater to mens, womens & childrens better activewear, athletic & outerwear markets. Small runs for children's wear. We also do sublimation digital printing.
All types of stretch knits. Raschels, tricots, tech-sheens, jacquards w/lycra & cotton/lycras. Carry over 600 styles. Domestic. Cater to swimwear, activewear, medical and intimate apparel markets.
We are an import textile company established in 1993 specializing in novely fabrics in minky, laces, velvet (stretch and non-stretch), burnouts, fur, jersey & suede (stretch & non-stretch). We stock many fabrics in our LA warehouse.
Wholesale & retail specializing in quality printed fabrics, dancewear & exotic fabrics. Lots of slinky stretch, faux fur and chenilles plus novelties.
Creative, innovative designs in stretch knits, tricots, jerseys and laces. Domestic mill. Cater to mens, womens, childrens, lingerie, intimate, active & sportswear markets, plus home furnishings. Price points: moderate.
Tricots Liesse. Jacquards, interlocks, PDRs, double-face, blisters, transfer jacquards, lined crochets, ribs and trims. Active, Swim and Yoga markets.
Fleece, french terry, thermals, jerseys & ribs are available with spandex for PFGD as well as piece dyeing. Lab dips available for custom colors. Sample yardage. Domestic converter.
Our selection of knit fabrics will give you lots to choose from for your next apparel design, next blouse, skirt, or maxi dress. First quality fabric at wholesale price.
Full range of fabrics for active wear, dancewear, gymnastics, costumes & swimwear including spandex with foil, glitter & hologram embellishments, novelty velvets, High quality standards on imported fabrics.
Provides knitted fabrics for fashion apparel, life style, swimwear, including single & double knits, ribs, poly cotton, slubs, novelties. Domestic & importer of organic & sustainable knit fabrics. Organic cotton, bamboo, cotton spandex.All colors & prints. 25 yrs experience.
In-stock stretch fabrics, novelties, solids & prints. Stretch velvet, foils and holograms. Converter, custom printing, domestic & import. Cater to gymnastics, swim, dance, yoga, cycling, active, fashion leggings, costume & sportswear markets. Moderate price pts.
Print Knit Studio is dedicated to the creation and sales of children apparel fabrics. We do all knitting and printing locally in Los Angeles. Our fabric selections are trendy and great source for children clothing manufacturers, designers and individuals as well.
The novelty circular knit resource. Offers viscose, modals, supima/modals, bamboo with and/without spandex. Stock service in rayon/spandex jersey - 70 colors. Rayon/Nylon/Lycra Ponte. Washable wool, nylons, cotton, polyester, spacers, novelties. Domestic. Intimate apparel & sportswear markets.
Stretch fabric specialist, Italian lycra stock service with 200+ colors. Over 400 stock service fabrics. A large holographic fabric selection, glitters, tie dyes, velvets.
Stretch lycra solids & prints. Cotton/lycra, poly/lycra & nylon/lycra novelties. Mill, converter, importer. Fabrics made in U.S., Mexico & Asia. Cater to mens, womens & kids activewear, lingerie, yoga, legging & swim markets. Popular to moderate price pts.
The complete source for novelty knits and laces. Many lycra blend types. Domestic converter. Cater to all types of womens apparel markets. Budget to moderate price points.
Knit fabric manufacturer with knitting, dyeing, and finishing facilities in Los Angeles and El Salvador. Produce a wide variety of circular knits in cotton, poly/cotton, cotton/spandex, rayon, Modal, bamboo, Supima cotton, and MicroModal. All type of knot fabrics single and double knits, fine gauge to sweater weights and large selection of novelty patterns. Use earth-friendly production and business practices which reduce waste and save natural resources. No resins or formaldehyde utilized for deying or shrinkage control. Cater to junior, contemporary, womens, mens and childrenswear markets plus performance and activewear markets.
Performance jersey's, textured novelty jerseys, ribs, fleece, french terry, jacquards,neoprene, ponti di roma; cellulose and synthetics in many different belnds and stitches. Made in America fabrics.
Stretch circular and warp knits. Wicking, UPF, anti-microbial finishes. Large in stock program. Specialize in active and athletic wear. Large dye sublimation selection. Also, UPF finishes and anti snag processing.
Fabric mill & manufacturer of knit packages. Large line of cotton/cotton blends, polyester/polyester blends, rayon/rayon blends, fleece, jersey terry, interlock etc. Moderate price points. Domestic & import. Cater to casual & contemporary markets.