We want to add that when you shop for fabric, allow yourself enough time to do it, and to do it without rushing. How long you give yourself to source and select fabrics, depends completely on your in-store or in-customer-hand date. You need to work backwards from that date to calculate how many days, weeks, months you need before the finished items are distributed to the stores or customers. Allow time for design concepts, materials sourcing, sample making, pre-production, delivery of fabric and trims, spreading, cutting, production sewing, pressing, labeling, inspecting the production, packaging, shipping and distribution to your stores and customers. Once you work backwards from your in-store date, you will find that you need to shop for fabrics anywhere from 4 weeks to 6 months before the goods get to the stores. That is a considerable amount of time, and depends greatly n if you are sewing up a small order in house, or you are making a sizeable order overseas. The best way to approach when you need to complete everything, including fabric shopping, is to work out a chart with each phase on it and how much time you have for each well in advance, so you have ample time for fabric shopping. Once you decide how much time is required for each phase, chart it out and let everyone in each departments know the dates and the time line. This way everyone involved in the design, merchandising and production processes are on the same page and everyone knows what every other department is working on at any time and has the same expectations of when each phase will be completed.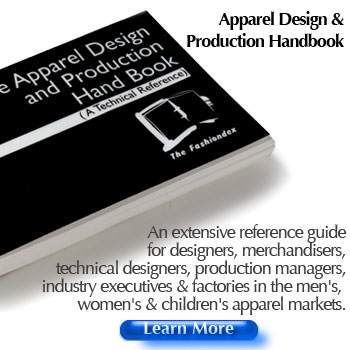 HOPEFULLY, IT'S A HIT: Lastly, when you choose your production fabric, keep in mind, that if the style or styles you use the fabric for sells well, then you may eventually need more of the exact same fabric. Because if you are shipping to a retailer, and the item sells well, they may place a reorder and they are going to expect a quick turnaround on that reorder. So, you should try to select fabric that will have a short, or immediate, leadtime if you need more of it. This point is key when working with stores. If you are able to quickly fill reorders, you are on your way to establishing good relationships with your buyers, and this of course is extremely important. If you cannot get the exact goods, and you take the time to source all over again, it will be almost impossible to fill that reorder in time.
When shopping the fabric market, always be up-front with your production needs, especially in terms of what you want to pay, how many yards you may order and how much time you have. It is a waste of your very valuable time and the fabric salespersons, when unrealistic fabrics are soured. You don't want the fabric suppliers to think you are not serious or honest about your needs.
Then they will not want to work with you in the future, and you may need them sometime in the future, especially if they have a great line, full of hot items. No one in the garment industry enjoys wasting time, mainly because there is so little of it, and we never have enough of it in our trade. So always be straightforward with your fabric yardage needs, and straightforward with your salespeople, and you will always find the perfect fabric for your line.