So, now you know what to say when you look for fabrics, and you have begun to shop the market. So, let's assume you have found a few fabrics that you like, you feel they would work with your line and that they communicate the design message you feel strongly about. If all other details are workable in reference to the fabric color, price, availability, etc., then you may be asking… "What's next?" Well, the next step, for most manufacturers, is sample yardage.
Why order Sample Yardage: Sample yardage is an extremely important step in the fabric selection and production process. It is the time for you to see if your item, or items, works in this fabric. You need to do this step before you order your production fabric yardage. Sample yardage involves ordering a small amount of yardage, generally 3 to5 yards of a quality. With that you can cut and sew a certain style or styles in. Doing this allows you to see if the fabric works well and hangs well with the styles you had in mind. You can also use the sample garments for selling in the showroom and to make corrections on the pattern based on how the sample garment fits, as the same exact style will fit differently in different fabrics. In addition, a company will often perform their own informal testing with a sample garment, for instance putting the garment in the washing machine, or in the dryer, or pressing the garment, etc.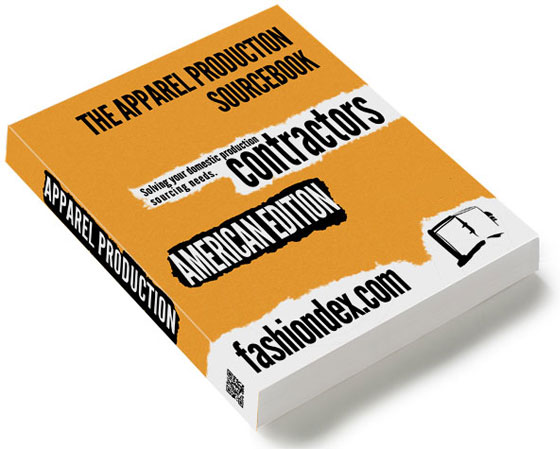 And more about Sample Yardage: Sample yardage serves many purposes and becomes more important as your fabric quantities increase, and hence your costs, become greater. You do pay for sample yardage, and sample yardage can sometimes cost up to 50% more than the production yardage, so choose your sample cuts carefully. Sample yardage is usually ordered by the designer or by the design assistant. Once you sew up the sample yardage and review it, if you choose it for your production, then you can place the production fabric order.
PRODUCTION FABRIC ORDERS: About Production Fabric Orders: In large design companies, the fabric buyer places production fabric orders. However in smaller companies, where there may not be a fabric buyer, often the designer or owner will place the orders themselves. On the production fabric order, all of the following details need to be included on the order:
Fabric quality name and style number
Fiber content
Fabric width
Fabric weight
Colors or colorways
Price per yard
Shipping destination
Delivery details
And other pertinent information.
This fabric order is a contract, so you need to be specific with what you are expecting to be delivered. An important detail is to also attach a swatch of the selected and approved yardage to the original order, and add a swatch to each copy, so there is no confusion when the goods arrive if the correct fabric has been delivered. Generally the supplier gets the original, and copies go to who places the order, the production department, the shipping destination, and one to your accounts payable department. With swatches of the actual fabric attached everyone involved can see if what is shipped is what was originally ordered and therefore paid for. Whoever is at the destination to receive the fabric can compare the goods that are delivered to the swatch attached to the order, and check that you received what it was that you actually ordered. From that point on you can further inspect the goods to assure the received yardage is not damaged and meets any and all or your particular company's quality control requirements.
And more about Production Fabric Orders: Your production fabric order needs only to include enough yardage to fill your cutting ticket, with a small percentage of anticipated wastage included. Otherwise you could be stuck with a large amount of leftover yardage, and then you will have to deal with where to store it or you will have to sell it to a broker or jobber at a reduced fee. And these both situations are money-losing situations, that can be avoided by only ordering exactly what you surely need.