Now that you begin to call on the fabric suppliers, the fabric salespeople will ask you a series of details about the fabrics that you are sourcing. Knowing what fabric type you want is not enough, for instance to say "I am looking for a heavy velvet" will not necessarily get you the heavy velvet you need. A certain supplier could have very suitable heavy weight velvet but it may take six weeks for delivery and you need it in two, then it really wouldn't work so well after-all. Or, there could be many other factors contributing to the fact that this heavy velvet, that looks and feels exactly as you want it to, cannot work for your collection at this moment in time. Consequently, you need to be prepared to advise several details to your fabric suppliers, and to retrieve details from them, when you first begin searching. In addition to the fabric type you want; you need to advise the following data as well:
What the fabric is made of
When you need the fabric
How much you need of it
Whereyou need it
What colors or designs you want
The weight you are looking for
The width you need
What the end use will be
How much you want to pay for it.
Let's address each of these points individually: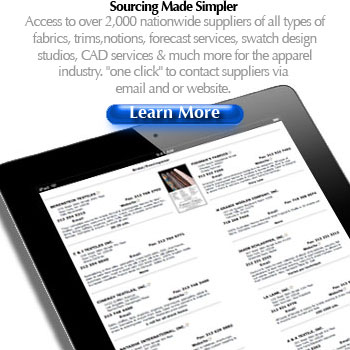 FIBER CONTENT: What is Fiber Content: The fiber content is the breakdown, in percentages, of the fiber types used in a fabric. The fibers are the raw materials that make up the yarn that is then knitted or woven into the fabric. There are natural fiber fabrics (i.e.: 100% cotton), synthetic fiber fabrics (i.e.: 100% nylon), and blended fiber fabrics (i.e.: 90% cotton/10% nylon). For blended fiber fabrics, the percentage of each fiber are by weight, and the fibers are listed in descending order.
And more about Fiber Content: The fiber or fibers a fabric is made of greatly influences the characteristics of that fabric, and therefore the garment or item that fabric eventually is made into. The fiber content affects the hand, drape, quality, durability, appearance, care and comfort of a fabric. And, in turn affects the quality, durability, appearance, care and comfort of the item or items the fabric is used for. Fiber content also affects how the items sell, as customers often have pre-conceived notions of certain fibers and will or will not buy an item based on fiber content. This is important to keep in mind, as by law, the fiber content of the fabric or textile products used in an item must appear on the tag and/or label at the point of sale.
LEADTIME: What is Leadtime: The leadtime is the time period between when you place the fabric order and when you actually need the goods in-house. So, if you have allowed yourself two weeks to select, edit and choose fabric and you plan to place a production fabric order at the end of those two weeks, and you need the fabric at your sewers in six weeks, then you have a four-week leadtime. Therefore, the fabric supplier has four weeks in which to deliver the fabric, between when you place the order and you need it.
And more about Leadtime: If you are not in a rush, then you have a long leadtime, and you will most likely have a larger selection of fabric qualities to choose from, than if you had a short leadtime. If your leadtime is short, and sometimes fabric is needed in a very short amount of time, such as in a day, then you need goods in stock and available immediately. You will meet with a fabric supplier knowing when you need the fabric and what your leadtime is, and the supplier will also quote a leadtime for the fabrics that he or she is showing. So if you need a fabric in four weeks, and the supplier shows you a quality and quotes an eight-week leadtime, you know this cannot be a choice for your line. What happens during this leadtime phase, on the supplier end, is the supplier has the mill manufacture the goods, or they obtain the goods from the converter, mill, etc. During that time the fabric may need to be dyed, printed, finished, etc. and shipped to their warehouse, and then it will need to be shipped to you. So a jobber or wholesaler with goods in stock, can provide you goods with a short leadtime, whereas a mill or converter will require a long leadtime.