SOURCING A,B,C'S
Fabric, Treatments and Trims
by fashiondex.com
You need thoughts on what fabric/fabric category you would like this item or collection to be made in and what treatments or trimmings you are considering.
In terms of fabric, you can bring a small swatch and attach it to your sketch or have the sample made up in a similar-weight fabric for the factories/reps to see. In order to find fabrics, you must shop the fabric market. Many fabric companies exhibit at sourcing and trade shows, ideally you can source your fabric at the same show as your production. You will need to search for fabric companies with low minimums. The low-minimum fabric houses include jobbers and wholesalers – you should avoid going direct to a mill right away, as you will not be able to meet their quantities at first. As you shop the fabric vendors, ask for swatches for the fabric qualities you feel are suitable. Many suppliers will be happy to provide you with a few swatches at no charge; others may require you to pay for them. You can also order sample yardage from these fabric suppliers and make up the samples in the fabric, so the factories see your idea in the correct fabric. Alternatively, you can buy a garment at retail that is cut from the same fabric-type you have in mind, and show the garment to the fabric supplier/apparel factory for fabric-type only.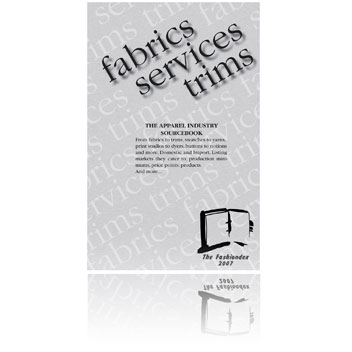 The comprehensive directory for apparel manufacturers, designers, merchandisers, trim buyers, fabric buyers and production departments in the men's, women's, children's and accessory markets. A complete and up-to-date guide listing over 2,000 nationwide suppliers of all types of fabrics, trims, notions, forecast services, swatch design studios, CAD services and more for the apparel industry.

In terms of treatments, the same applies. If you desire a specialty dyeing, printing or stitching technique, you will need to have an example of the treatment, so the factory can advise if they have the necessary dyeing/printing/stiching machinery required to produce your idea/product.
As far as trimmings, including buttons, rhinestones, eyelets and other items that are attached to the garment, they will have to be purchased and therefore are an additional cost. Also, some trims require trim-attachment machinery that not all factories may have. You will need examples of any unique trims you plan to use on your new product or garment line.
The fabric, embellishments and type of garment you desire determines the factory booths you visit, as different factories have different areas of expertise.
Many factories can source fabric and trims. You do not necessarily need to source these separately. It is to your advantage to find a factory that provides all your desired fabrics, treatments and trims; as it is less sourcing, coordination and follow-up for you.
Back to: toc    Next Page: Thoughts on Who Is Your Customer...
Fashiondex Quick Links
Fabric Services & Trim Suppliers

Contractors (American Edition)

Contractors (Asian Edition)

Branded Apparel Manufacturers

Other Links